Posted on June 26, 2017 in Shawano, Wisconsin - 0 comments -
Are you moving to shawano soon?
Congratulations on a great decision in moving to Shawano in the first place.  Shawano is a great place to raise a family.  With our numerous recreation options and low crime Shawano has been a prime city to live in for Wisconsinites looking to get away from the city.  We would love to make the transition to shawano that much easier.  Below are some resources to get you started.  Whether you are buying or renting in Shawano there are so many options right in the city.  We have downtown, rural, wooded and waterfront properties in both categories.
As a transplant to Shawano myself I can tell you that I have not second guessed my decision once to relocate.  Moving from a different state or even anywhere nearby can be a daunting task if you have no idea where to go.  Of course, the internet has made that a bit easier but I will try to give you some tips.
First lets work on proper pronunciation!
Shaw-no
Great!  That's the hardest part.  Now you're ready to surf!
Realtors
We have some amazing local realtors who are knowledgeable in both buying and renting.  I would suggest checking Hilgenberg Realty or Hometown Realty.  If you like to check more than two places for properties you can go to the realtor section on our chamber page or sites like Zillow or Realtor.com.
Insurance
We can help you there and you can get most of that started right online.  It will only take you ten minutes and you will get real numbers right away.  Of course this wouldn't be a very good moving to Shawano guide if I only offered you one choice so here is the link to the chamber listing for Insurance in Shawano.
Hotels
You'll want to visit here and unless you know someone personally you will need a place to stay.  Shawano can oblige happily.  Check out the beautifully redesigned Four Seasons Hotel or if you want to stay on the highway Boarders Inn is a great spot.  Pro tip: There are numerous eateries near the Four Seasons.  Of course you can also check out the chambers hotel listing.  I do not work for the Chamber, really.
Let's pause and work on pronouncing Shawano correctly again.  It's fun!
Shaw-no.
That was amazing.  Have you lived here all your life??
Here are some final tips.  Drive around the lake.  It will take you about a half hour but is beautiful.  There are some great places to eat as well.  The Chamber, which I do not work at, is right on Main Street if you need some brochures.  Their info Center is open 24 hours.  Make sure to check out our annual Sundrop Dayz or the Sundrop museum if you have some time.  Pro tip: Sundrop is available pretty much anywhere here.  I was from Illinois and let's just say I was stuck with lesser options until i moved to Shawano.   That reminds me stop by and see me if you are in town.  I can personally answer any questions you may have.  We also have a Sundrop machine right in the insurance agency.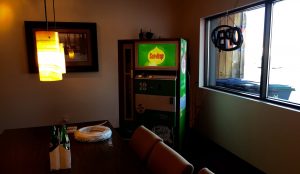 I can't wait for you to move here.  It really is a great town.  See you soon!  I will provide some more category Links below for your convenience.
Related Posts
About The Author